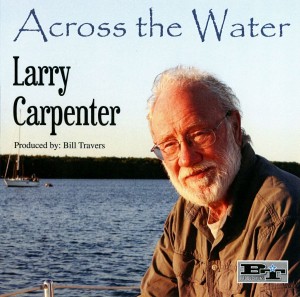 Across the Water was released in 2011 and is in its 4th printing.
From the album insert:
I have been collecting, singing and sharing songs for many years, many times on my boat or around a campfire with the songwriter. Over that time, I have had many requests to record and share some of them. Some are old favorites; others were collected more recently. I hope you enjoy listening as much as I enjoy singing them.
Songs Included on the Album
Get Her into Shore
(Larry Kaplan): The fisheries off the North American East Coast have cost the lives of many fishermen. This is one more story.
Angel's Share
(Ian Tamblyn) When whiskey ages in casks, a small amount seeps through the wood and evaporates – The Angel's Share.
Cold Missouri Water
(James Keelaghan) Story of the 1949 Mann Gulch fire in Montana. Thirteen smoke jumpers died while trying to outrun the advancing flames. The story is told from the death bed of the crew leader a few years later.
Bird on a Wing
(Connie Kaldor) A small town girl is poised to fly away.
Four Strong Winds
(Ian Tyson) A Canadian classic from the early '60s.
Poetic Justice
(Buddy Mondlock) The melody and lyrics speak for themselves in this tale of love lost.
The Dutchman
(Michael Smith) A bittersweet story of lasting love.
Black Spruce
(Ian Tamblyn) A song celebrating the images and rhythms of boating and canoeing the lakes and rivers of the boreal forest.
Coming Down in the Rain
(Buddy Mondlock) One man's reaction to rejected love.
Child of Mine
(Bill Staines) I sang this song for my daughter's wedding.
How Many Strangers Do You Know
(Bill Houston) Can anyone be a stranger for long?
Old Fat Boat
(Gordon Bok) Written while moving a newly acquired boat single handed up the Eastern Seaboard.  
Personnel
Lead Vocals, Acoustic Guitar
: Larry Carpenter
Background Vocals
: Laura Moe
Flute
: Judy Taylor
Acoustic Guitar
: Bill Travers
Producer
: Bill Travers
Recording, Mixing & Mastering
: Greg Harder
CD and Insert Art
: Bill Travers
Cover Photo
: Rick Phillips
Back Photo
: Carl Berdie
Inside Photo Left
: Rick Shutes
Inside Photo Right
: David Wiencke    
Purchase the Album
This album is available from me directly. It can also be purchased online either as a physical CD disk or as a digital download at CD Baby: CDBaby.com
Review of Across the Water
A review of Across the Water was published in the online Daily Planet in October 2011. You can read the review by clicking here: Review Across the Water