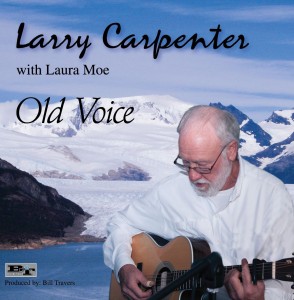 Old Voice was released January 2014.
From the album insert:
Larry has been playing and singing since his college days. He has dragged his guitar to Africa, Micronesia and New Zealand, then across the North Atlantic twice on sailboats. Many of the songs he plays have a nautical flavor and are played from the deck of his sailboat on Lake Superior or around a campfire at music festivals. This collection well take you to glaciers of Patagonia, farms of the Great Plains, the Labrador coast and the Australian Outback. And there are songs to take you home.
Songs Included on the Album
Woodsmoke and Oranges
(Ian Tamblyn) A musical tribute to the rugged and beautiful wilderness of the Canadian North Shore of Lake Superior
Quoddy Point
(Buddy Mondlock and Richard Berman) Quoddy Point is the eastern most point of the US. Anyone who sees a sunrise from Quoddy Point will be the first in the US to see the light on that particular day. The song is a metaphor for the lighthouse keeper's life.
Peaceful Easy Feeling
(Jack Tempchin) A song familiar to many, made polular by the Eagles.
Old Voice
(Ian Tamblyn) This song reflects a longing to be among the ageless mountains, snowfields and glaciers of the world.
Give Yourself to Love
(Kate Wolf) The song I sang in Argentina for my son's wedding.
Make and Break Harbor
(Stan Rogers) A song about dying fishing traditions and, eventually, of fishing villages and fisheries of the Canadian Maritime Provinces.
Freedom to Stay
(Willis Hoover) Freedom is more than being able to go. Maybe we are already there.
Not This Time
(Amanda Rheaume) A family traveled through the wilds of NW Canada and crossed Great Slave Lake. To survive a storm, barges with the wife and six children had to be cut loose.
Field Behind the Plow
(Stan Rogers) The best description of the life of a Great Plains farmer I have heard.
Bay Rupert
(Larry Kaplan) An ill-fated trip to bring supplies to a remote Hudson's Bay Company coastal outpost.
Outside Track
(Words: Henry Lawson, Tune: Gerry Hallom) A 19th century Australian poem by Henry Lawson, lamenting how his mates were abandoning the life of the swagman.
The Birds
(Ian Tamblyn) A whimsical song reflecting the coming and going of thousands of birds from a wilderness high latitude rookery.  
Personnel
Lead Vocals, Acoustic Guitar
: Larry Carpenter
Background Vocals
: Laura Moe
Flute
: Judy Taylor
Acoustic Guitar
: Bill Travers
Producer
: Bill Travers
Recording, Mixing & Mastering
: John Wright
CD and Insert Art
: Bill Travers
Cover Photo (front and  back)
: Larry Carpenter
Inside Photos
: Rick Phillips
Inside Photo Background
: Larry Carpenter
Purchase the Album
This album is available from me directly. It can also be purchased online either as a physical CD disk or as a digital download at CD Baby: CDBaby.com
Review of Old Voice

A review of Old Voice was published in the online Daily Planet in March 2014. You can read the review by clicking here: Old Voice Review