There are many jam sessions and open mics around the Twin Cities. There are some that I attend regularly. You might catch me at one or more of them.
Jams
Homestead Pickin' Parlor, 6625 Penn Ave S, Richfield, hosts the longest running folk music jam that I attend. The folk jam is on the 1st, 3rd and 5th Tuesdays of the month. Starts at 7:00 and ends at 9:00. I have been going to this one quite regularly since about 1980. The format is a song circle. Each participant takes a turn to sing a song each time around the circle. There are no mics or amplifiers at this jam.
The Driftwood Char Bar, 4415 Nicollet Ave S, Minneapolis, has an acoustic jam each Monday night beginning at 7:00. This is kind of a song circle, but each time around you will get in front of the group. There is a vocal mic and a mic for your instrument. You do not plug in. The rest of the group will attempt to play along on various instruments, often including a saxophone, saw and various percussion devices.
Blackbird's Music Store, 3445 Cedar Ave S, Minneapolis, has a series of jams throughout the week – including a family ukulele class on Wednesdays. Click the link for times and days.
Open Mics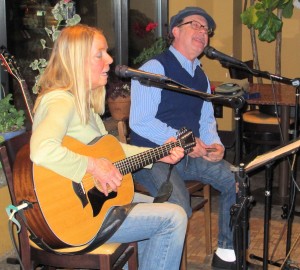 Riverview Wine Bar, 3747 42nd Ave S, Minneapolis, has an open mic every Thursday. This starts at 7:00, but you should get there earlier to be able to sign up for a time at the mic. This tends to be quite a popular place to perform. You might have to wait for your turn and if there are too many performers, the time at the mic may be reduced.
Underground Music Cafe, 1579 Hamline Ave, Falcon Heights, MN. They have an open mic starting at 6:00 on some Sundays. Check the calendar on their website to see when it takes place.
Babe's Music Bar, 20685 Holyoke Ave S., Lakeville MN. They have an open mic every Tuesday starting at 7:00. Sign up for your spot at the door. Best get there early to get a good time. I tend to go to this open mic when there is no folk jam at the Pickin' Parlor.
Selam Coffee, 3860 Minnehaha Ave S, Minneapolis (NW corner Minnehaha Avenue & 39th St). The open mic is 1st & 3rd Saturdays, 6:30-9:30. Hosts: Bob & Therese Goddard and T.J. Plenke.
Also, check out this site: Open Mics, Minneapolis. Be aware that some of the info may be out of date and not accurate.